Here's a rifle I made in 1997. A .177 FTS Ranger.

The stock wood was some private stock I had. Actually cut by my grandfather in the 30's-40's. He had a sawmill on the farm then. When I opened a cabinet shop in 1974, I found some of his planks in an old shed on his estate. I stored it for a rainy day. This seemed the time.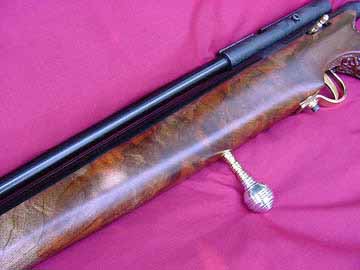 It had a beautiful overlapping "fish scale" grain to the burl.
I deep relief carved the grip areas.
Thanks for taking a look.
Gary
Edited 2 time(s). Last edit at 05/12/2009 11:02PM by Jerry.