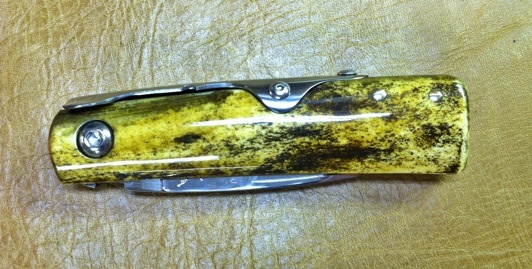 Dyed hand cut bone. High Carbon Stainless Blade and Spring.
The Second Gentleman who stopped by today purchased this knife - finished at Midnight. $750. SOLD
Thanks for taking a look. Hope you like it.
Also - you recall I've showed you the shells for another Expedition Case I was making. Like the Nickle Silver Hunting Cases you have seen. That is now Sold. Along with another letter opener and much of the jewelry I had listed.
I'm very appreciative of the fact that the value, and uniqueness of the products, spoke for themselves today.
There are more in the works.
Best,
Gary
Edited 1 time(s). Last edit at 11/07/2014 04:58AM by barnespneumatic.