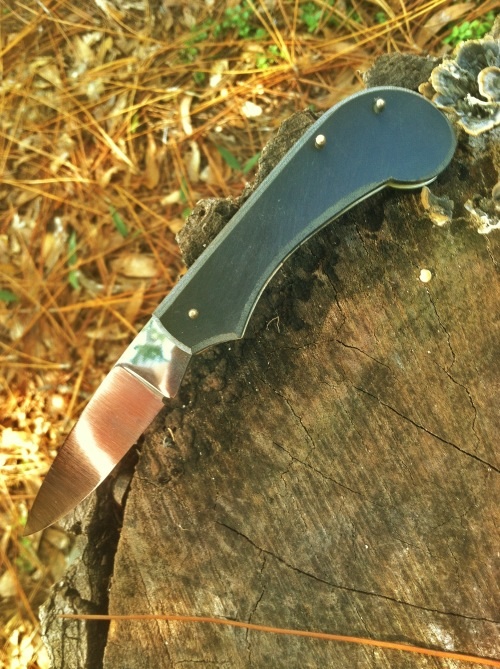 This knife is about 85% complete.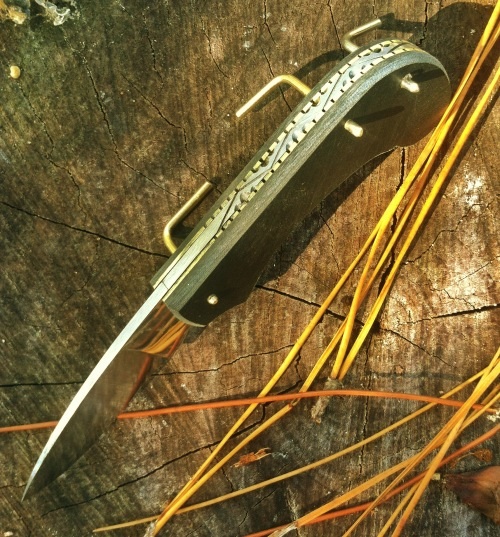 It has Stainless Tool Steel blade and spring. The back is file worked. The frame is brass. The scales are Black Linen Phenolic. It's a perfect pocket sized knife.
This is NOT this knife. However; this new knife is an exact copy of the knife in this picture. The knife in this pic sold in about 5 min. Lets try to break that. Haha.
The parts for the current knife were made as a set with the knife on the pic. Don't know the exact nos. now. I'm outside. I'd guess about 2 1/4" blade and 5" open.
THIS FOLDER IS NOW SOLD - THANKS VERY MUCH.
That's that. Now ..........................
You may have seen the post that said roughly: the house is sold, the stress is over, I have money in my pocket, I'm skipping all around BPS, please don't buy anything else now, please don't bother participating in the forum, Happy Days are here, I'm almost done YOUR gun. Actually, that post was on another forum. And it had nothing to do with me.
Here at BPS - I'm making knives to continually cut the stress in the air. I'm working til 10 PM in the shop to try to support BPN and BPS. I'm buying fuel oil for BPN because the folks who are going to buy it at the end of the year do not want it all frozen and ruptured first. Here, I check the forum to keep the crickets from being so depressed. We are not there yet. We are dragging the wounded to the tent. So; we would appreciate your continued help thru year's end.
This knife is $375 instead of $350 - yes. Why? Because you can't do anything with $350. And after 41 years in the field, it should be $700. To clarify, you might wonder why the last one was priced at $775 when it was 4 times the work? Because I can't multiply? No. Because I'm trying to offer amazing work here to lessen the stress just a little bit. Then why didnt it sell instantly? Because hardly anybody is looking. Most will check back in once they figure I have everything all tidy'd up and nothing is available for sale - as it should be.
That means, if you've read this, then you have an advantage over folks who aren't checking in. I'm just stating the honest psychology of what is taking place here. Most people want nothing at all to do with any stress. And so; they're sick of watching me slog thru the swamp. We are about 6 weeks from fresh air on the coast. And, you can bet we well remember the ones who have helped us. I've given absolutely everything I have to this task. Thank you.
Gary
Edited 3 time(s). Last edit at 11/20/2014 11:24PM by barnespneumatic.