Expected to do it earlier. Had a set back. Moved around it. Was working the group of sheaths. Have pulled one now and am finishing it. That frees the complete knife and sheath.
This one has an GRAIN ETCHED STAINLESS blade. "IF you know which, how, when and HAVE this and that; then you CAN acid etch the steel and show some of the changes in grain structure between different hardness areas which were selectively heat treated.
Yes, I Do, Know, and Did. It's very interesting. It has an antique feel. It's perfect for Trade Knives. It looks a bit like Damascus THEREFORE; so that there may NEVER BE any confusion, on the Rear Ricasso, I've engraved "A-2" which is the Alloy of Stainless Tool Steel from which I made this stock removal blade.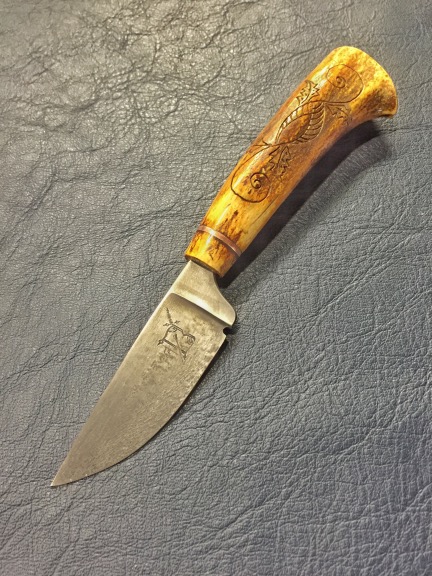 Here ya go!!!
About 3" blade and about 7" overall I suspect.
The Knife and Sheath is $395us. Plus $15 to send USPS PRIORITY MAIL.
ITS A REALLY SWEET KNIFE!
Drop your marker here. Go to the PM SECTION to check in with your details. I'm .... barnespneumatic there.
Thanks so much!
Gary
Edited 3 time(s). Last edit at 01/18/2017 07:37PM by barnespneumatic.